Numa bela tarde de terça-feira (12/06/2018) me deparo com esse erro bacana ao tentar colocar uma PK de uma tabela online .. Os scripts que eu tentei executar sempre tomavam esse erro. A causa desse problema foi um rebuild de índice PK que parei no meio do processo com um alter system kill session e o mesmo ficou incompleto.
A solução estava num doc id do MOS 375856.1 nomeado de: Session Was Killed During The Rebuild Of Index ORA-08104 : )
Basicamente é rodar esse script na instância que está ocorrendo o erro e em seguida rodar o rebuild dos índices:

DECLARE
isClean BOOLEAN;
BEGIN
isClean := FALSE;
WHILE isClean=FALSE
LOOP
isClean := dbms_repair.online_index_clean(
dbms_repair.all_index_id, dbms_repair.lock_wait);
dbms_lock.sleep(10);
END LOOP;
END;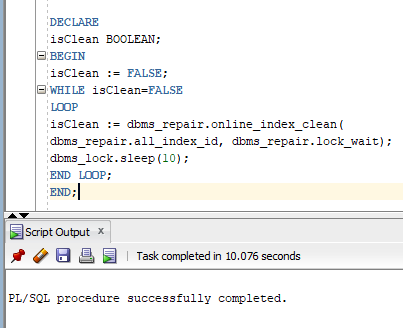 Até a próxima.